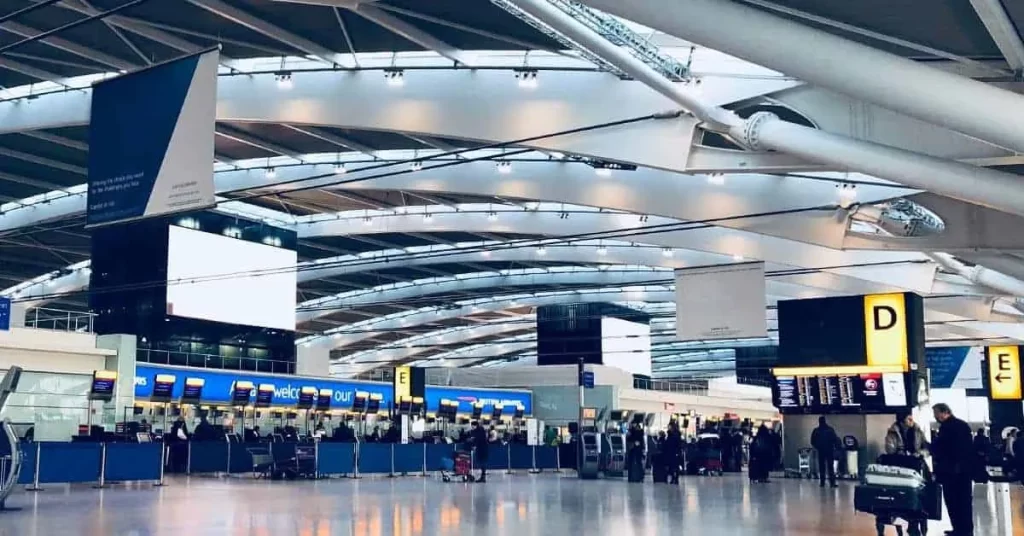 About Heathrow Airport
Heathrow Airport is one of the most important and the sixth busiest international airports in the world that is located in west London of England. It spreads over 1,227 hectares of land. Heathrow is under the jurisdiction of the London Borough of Hillingdon, and the Twickenham postcode area with TW6 postcode. It is located within the parliamentary constituency of Hayes and Harlington.
Heathrow Airport is designed with 2 runways with a northern runway of about 3902m x 50m and a southern runway of about 3658m x 50m in length. It has 133 aircraft stands served with an air bridge. The airport also accommodates 64 remote stands and 15 cargo stands. The network of Heathrow Airport spreads all over the globe like a spider web. It serves 203 destinations in about 84 countries. You can go to almost any place from Heathrow Airport.
Location
Heathrow is one of the airports with scheduled services serving the London area. It is 23 km west of central London, 4.8 km west of Hounslow Town, 3 miles south of Hayes, and 3 miles northeast of Staines-upon-Thames. From the north Heathrow airport is surrounded by the villages of Sipson, Harlington, Harmondsworth, and Longford, whereas from the east it is surrounded by Cranford and Hatton. To the west Heathrow is separated from Wraysbury, Horton, and Windsor in Berkshire by the M25 motorway while to the south lie, Feltham, Bedfont, and Stanwell.
Know Your Heathrow Terminals
Today, Heathrow Airport accommodates 4 functional terminals.
| | | |
| --- | --- | --- |
| Terminals | Opening Year | Area in square meters |
| Terminal 2 | 2014 | 40,000 |
| Terminal 3 | 1961 | 98,962 |
| Terminal 4 | 1986 | 105,481 |
| Terminal 5 | 2008 | 353,020 |
The Terminal 1 of Heathrow Airport was opened by Queen Elizabeth II in April 1969. It was the largest new airport terminal in Western Europe at that time. However, it was closed in 2015 and was used as an expansion stage for Terminal 2.
Terminal 1
Terminal 1 was the Heathrow base for British Airways (BA) domestic and European network. It opened in 1968 and, closed at the end of June 2015. Now site it is being used to extend Terminal 2.
Terminal 2
Terminal 2, also known as Queen's Terminal, was opened on 4 June 2014. It is used by all Star Alliance members and includes a satellite pier (T2B), a 1,340-space car park, and a cooling station to generate chilled water. You can enjoy the services of 52 different kinds of shops and 17 bars and restaurants.
Terminal 3
Terminal 3 also known as the Oceanic Terminal opened on 13 November 1961 to handle flight departures for long-haul routes for foreign carriers to the United States, Asia, and other Far Eastern destinations. It was expanded in 1970 with the addition of an arrivals building. Terminal 3 was redeveloped in 2007 to improve passengers' experience.
Terminal 4
Terminal 4 was opened on 1 April 1986 by the Prince and Princess of Wales that connects to Terminals 2 and 3 by the vehicular cargo tunnel. It also connects by rail with the Heathrow Terminal 4 tube and Heathrow Terminal 4 railway stations.
Terminal 5
Terminal 5 was opened by Queen Elizabeth II on 14 March 2008. It is located between the northern and southern runways at the western end of the Heathrow site. On 25 March Iberia moved its operations to the terminal at Heathrow due to which terminal 5 became home of International Airlines Group.
Heathrow Assistance
Heathrow Airport has a unique way of helping its customers in a dignified way. If you have any hidden or physical disability, all you need to do is contact Heathrow Assistance 48 hours in advance of your flight and this airport will leave no bricks unturned to assist you in the best way possible!
Heathrow Airport offers assistance in host areas, shopping services, toilets and changing places, wayfinding, and whatnot! They also have special arrangements for people with hearing problems and the blind and the partially sighted customers. They also excel in providing mobility equipment. Just feel free to pick up their purple Staxi chairs from any assistance host area and all for free of charge! How cool is that?
If you have a disability like autism, dementia, or anxiety and you don't want to fuss about it, then you can also request a sunflower lanyard at any of the Heathrow Assistance desks at any terminal. Wearing this lanyard will enable the staff to recognize you and provide any additional support during your journey- if needed. The assistance desk is available in the following areas in all the terminals:
Terminal 2: Level 5, check-in hall, behind check-in Zone C
Terminal 3: Level 1, opposite Pret a Manger
Terminal 4: Level 3, check-in hall, opposite Zone B
Terminal 5: Level3, check-in hall, Zone G
Traveling to and from Heathrow
Heathrow terminals are close together at the center of the airport site. To get to Terminal 2, 3, and 4, you can take the exit from M4 (junction 4) or M25 (junction 15) and follow the signs for Heathrow Terminals.
To get to Terminal 5, which is on the Western Perimeter Road and has its separate access road, exit from junction 14 of the M25. If you're coming from the M4, then exit at junction 4b and follow the M25 south to junction 14. Traveling to Heathrow can be done in 4 ways:
Bus/Coach
Train
Taxis/Minicabs
Private Cars
You can book a fixed-price journey to or from Heathrow Airport. Many cab companies offer you amazing deals. You can either book online or by telephone. Your driver will meet you at the appointed place, and time without delay. Just make sure that you share your flight details with the driver in advance.
If you feel like traveling by train, then Heathrow Express and TfL Rail are your go-area. These trains leave every 30 minutes and you can easily catch them in no time. You can also catch a ride on buses and coaches that run regularly between Heathrow Airport and National Rail stations at, Watford Junction, Feltham, Guildford, Reading, and Woking. You also have the facility to buy combined train or bus/coach tickets for these stations.
Heathrow's has its national coach whose network is spread all over the place to provide direct services to towns and cities across the UK. There are also shuttle services provided by nearby hotels. So, traveling to and from Heathrow is never a problem. There are multitudes of ways for a large number of customers of all kinds.
Heathrow Parking Perks
You can use the Short Stay Car Park at the airport as Heathrow Traffic Regulation Orders don't permit waiting on the departure forecourt. This Short Stay car park is
Multi-storeyed
Convenient
Directly linked to each Terminal
Green LED lights to display the availability of spaces.
Blue LED parking slots are for disabled parking and parent & child spaces
Free Electric Charging points for customer convenience
High presence of security patrols to keep passengers and their vehicles safe and secure
A seamless ticketing solution, using Automated Number Plate Recognition (ANPR) provides accuracy in duration for both drive-up and pre-book transactions and can help pinpoint your car via our 'Car Finder' system (available at Terminal 2 & 3).
Heathrow Airport Taxi Service
London Heathrow Taxi (LHT)
London Heathrow taxi (LHT) is a taxi company that is dedicated to providing the best Heathrow taxi service to its esteemed customers at a reasonable price with the vision to branch out its reformed services in the United Kingdom. Their quality services suit the client's budget. They stand out from the lot because of their safety and reliability factor, and strict adherence to the traffic principles by the trained drivers. They are operational every time, to cater traveling needs of their clients, even on special occasions or public holidays.
Moreover, it's the taxi company that provides the service at affordable rates. You can visit this page for the cheapest taxi to Heathrow and get the rates or book your taxi.
Heathrow Airport Chauffeur Service
Chelsea Chauffeurs London
Chelsea Chauffeurs is one of the top chauffeur companies in London that is committed to the mission of providing an excellent chauffeur-driven service to its esteemed customers. CCL covers a full range of services across London other than Heathrow chauffeur service and, has announced to extend its reformed services throughout the UK within the next couple of years.
CCL London Chauffeurs claims to have experienced and professional chauffeurs with a proven technical background and a sound knowledge of all the city areas and traffic rules. CCL gives pocket-friendly and super-friendly fixed rates to its clients. Their specialty lies in Meet & Greet services to provide the clients with a smooth-running trip and to give a safe, and luxurious experience.
Heathrow Arrivals and departure
Heathrow Airport consists of four terminal buildings such as Terminals 2, 3, 4, and 5.
Heathrow Terminal 2
Operates airlines of Air Canada, Air China, German Wings, and Lufthansa. You can find the check-in desks on the top floor of the terminal, LHR Arrivals on Level 1, and flight departures on Level 5.
Heathrow Terminal 3
Used for long-haul flights such as European destinations, and operates airlines that include Cathay Pacific, Delta Airlines, Emirates, Finn Air, Oman Air, and Virgin Atlantic. You can find the check-in desks on the ground floor at the front of the building, and LHR departures on the first floor.
Heathrow Terminal 4
Used for European destinations, with airlines such as Air India, Delta, and KLM flying from this terminal. You can find the check-in desks on the first floor, LHR flight arrivals on the ground floor, and flight departures are on the first floor.
Heathrow Terminal 5
Used exclusively by British Airways and Iberia airlines. You can find the check-in desks on level 3. LHR flight departures on levels 2 & 4, and flight arrivals on the ground floor.
Lounge and Boarding
Time is going to pass in a blink of an eye while you wait at the departure lounge. Just book a lounge at any terminal that is offered at great rates. You can enjoy a culinary journey, go to a quiet place to work, or discover new places to enjoy delicious food and drinks before boarding.
Hotels near Heathrow
Staying within the airport grounds doesn't assure you a hassle-free Heathrow experience. There are some renowned and prestigious hotels near Heathrow airport packed with desirable luxuries, boasting transfer times from as little as 10 minutes. They are:
Hilton Garden Inn
Hilton Garden Inn is just next to Terminal 2 and Terminal 3 of Heathrow airport, only a 12 minute walk away by a pedestrian underpass. This hotel provides you luxurious air-conditioned rooms along with free WiFi, and also a fitness center. You can get a 24-hour front desk service and room service.
Aerotel London Heathrow
Located inside of Heathrow Terminal 3. It's a 10-minute walk from Heathrow Terminal 2. Provides a 24-hour front desk and room service. You'll find that every room has a flat-screen TV, and a private bathroom with a shower and free toiletries.